Hello amazing people, the long wait is finally over!
Timetics scheduling tool is ready to give you the smartest meeting management experience for your meetings and business. Thanks to the whole developers team who've spent days and nights to make the dream of Timetics come true.
As a team of experience from Eventin, WPCafe, and Timetics for WordPress, we are excited and confident that you would love the Timetics SaaS solution. It would be your top choice shortly to grow your business and schedule management.

So, what makes Timetics so special?

Is it another Calendly alternative? Not at all! Timteics is a new gem for your business growth.
If you own a B2B or B2C business, the Timetics scheduling tool is the right fit for you. It can handle your schedule management smoothly. Moreover, it can be your go-to tool for personal meetings and sessions.
Hey, are you with me?
Yes! I know you are here. So, let's dive into the ins and outs of the solution.
Let's be part of the new revolution.
Timetics scheduling tool solely focused on improving the lives of busy professionals who have to handle many appointments and meetings in their careers.
And it is so easy that even your front-desk assistant can use it. Whether you are a restaurant owner, agency manager, law practitioner, or anyone or anything that has to schedule meetings with clients, patients, etc. Timetics meeting solution is the right fit for you.
Timetics is easier to use than most of the scheduling tools out there. It effortlessly mixes ease and flexibility, helping today's workers smoothly manage their daily tasks and unexpected changes.
Remarkable Features of the Timetics Scheduling Tool
While ensuring the simplicity of creating and managing appointments, it also intertwines advanced features, such as detailed event seating plans, providing an encompassing toolkit for busy professionals across various sectors.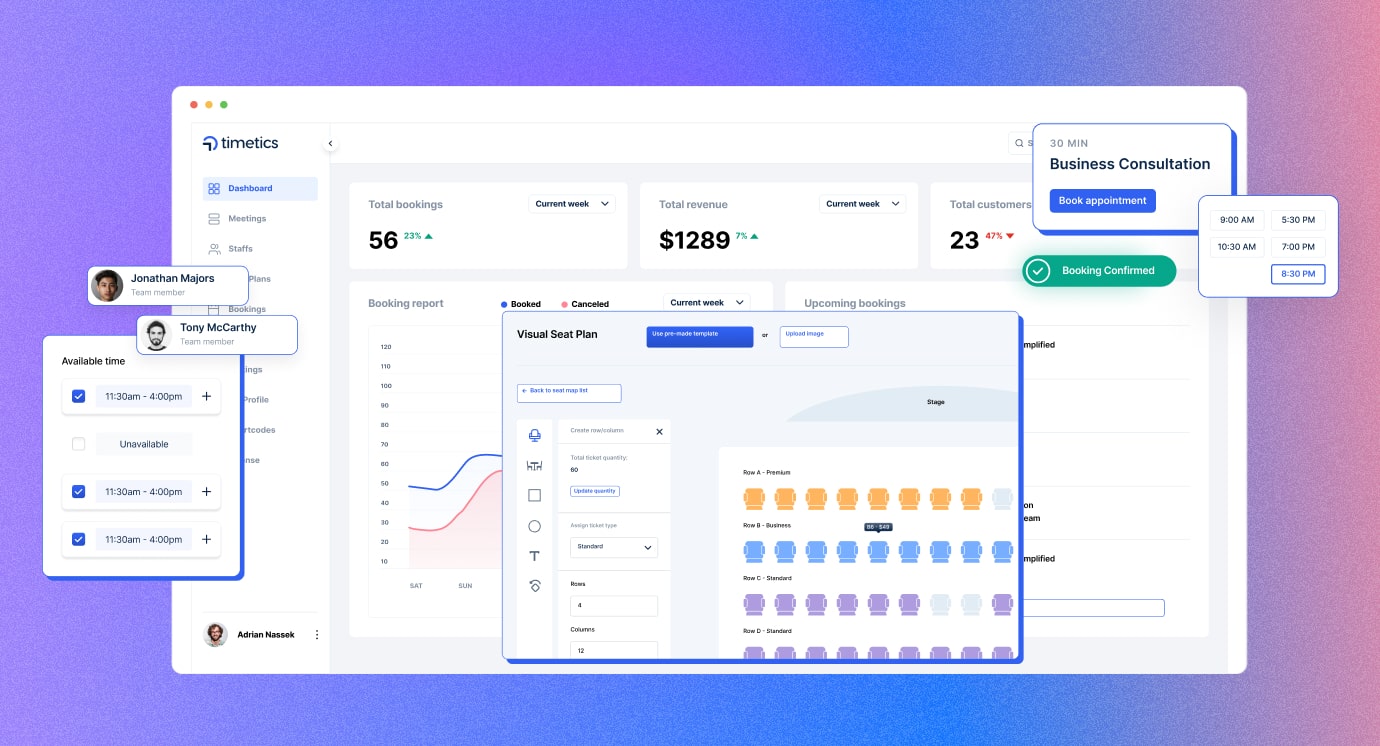 Schedule a Meeting on the go:
With Timetics anyone can conduct a meeting in no time. The Timetics scheduling tool onboarding process is super simple and ready to use.

Manage All of your Appointments:
Nowadays meetings and appointments take place on multiple platforms, (e.g. Zoom, Google Meet) right? With Timetics meeting solution you will have all the diverse platforms in one place, which will help you save more time and energy.

Set Seating Arrangements for Participants:
What if we tell you that with Timetics meeting solution you can maintain your online and/or offline seating plan online? Surprising right, well with Timetics seating arrangement feature you can create and customize your seat map in just a few clicks.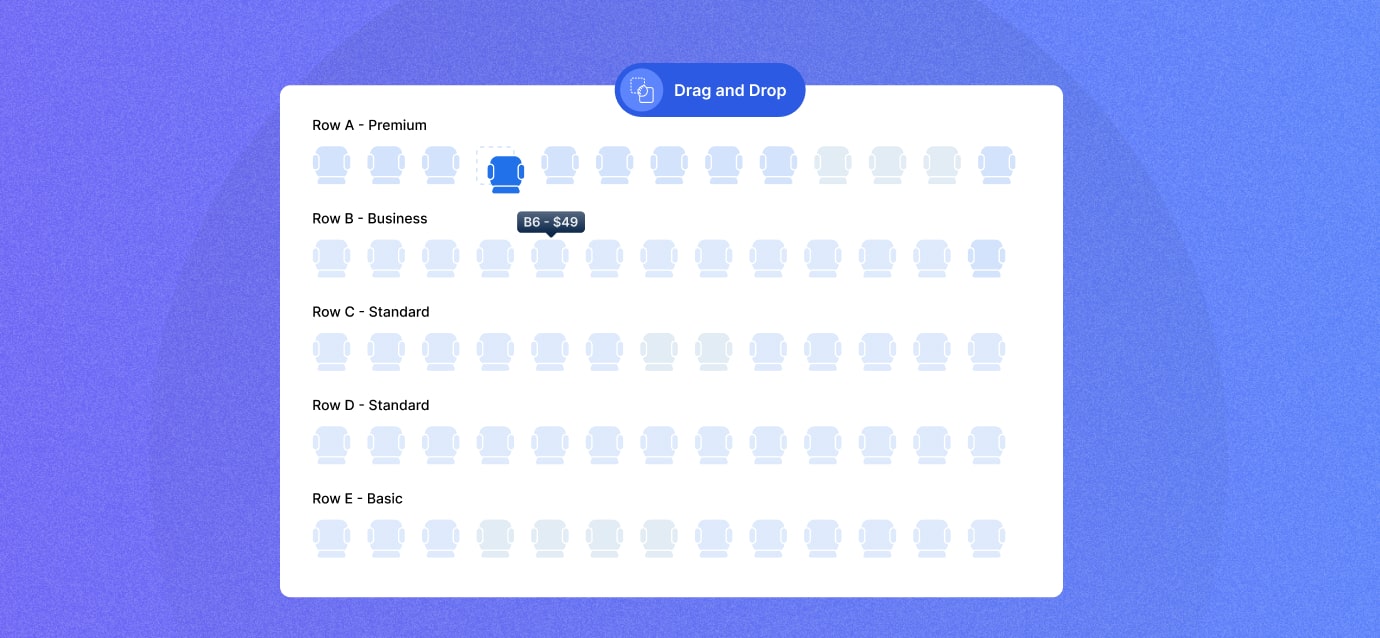 Timetics also provides 'drag-and-drop' seat arrangements and also with several seat plan designs that will assist you in kicking off your seating arrangements.

Automate with the Power of AI:
The Timetics scheduling tool has a tremendous artificial intelligence (AI) automated which will help you design your meetings and appointments. Still not clear? Well, with the Timetics meeting solution, you will find some platform suggestions and by choosing one you will create a perfect meeting.

Single Host and Single Attendee:
Creating 'one-to-one' meetings is something that we do in everyday work. With Timetics meeting solution you can create limitless one-to-one sessions. Try it for free!

Single Host and Multiple Participants:
It is true that we tend to organize meetings with our multiple team members on a daily basis, don't you? Well, we do… The Timetics meeting solution is here to enhance the 'one-to-many' meeting to a whole new level, and that too in multiple platforms.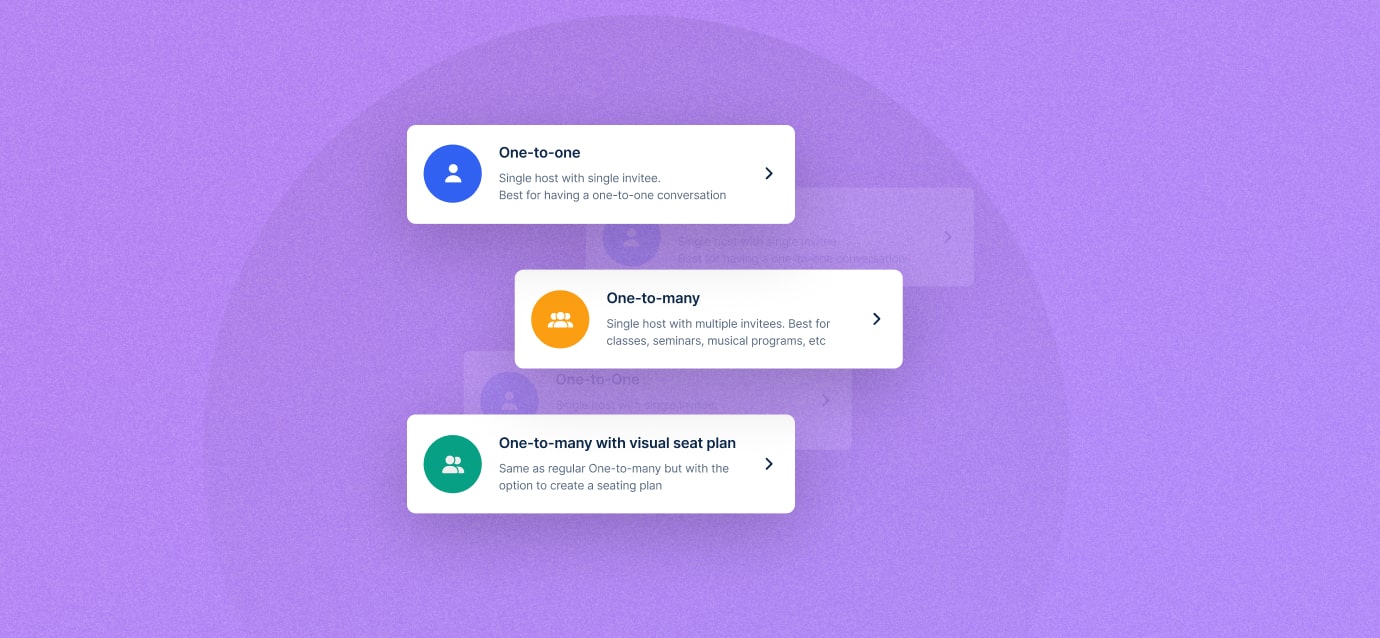 Host with a Designed Seating Plan:
Well well, Timetics seating arrangement has an astonishing 'drag-n-drop' feature in which you can design your seatmap just the way you like it. You can also customize the seating arrangements by changing their shape and color.
Single and Multi-Style Seat Map:
With the Timetics seating arrangement tool, you can create and add up either single and/or multiple seat plans in just a few clicks.

Niche-Based Onboarding:
Timetics offers you the best onboarding process in which you will find a number of niche-based suggestions, it will prevent you from missing out on any particulars and also create a perfect meeting.

Intelligence-based Event Experience:
As Timetics scheduling tool has intelligent outcomes that will provide you with alerts as well as suggestions so that you can create a perfect meeting.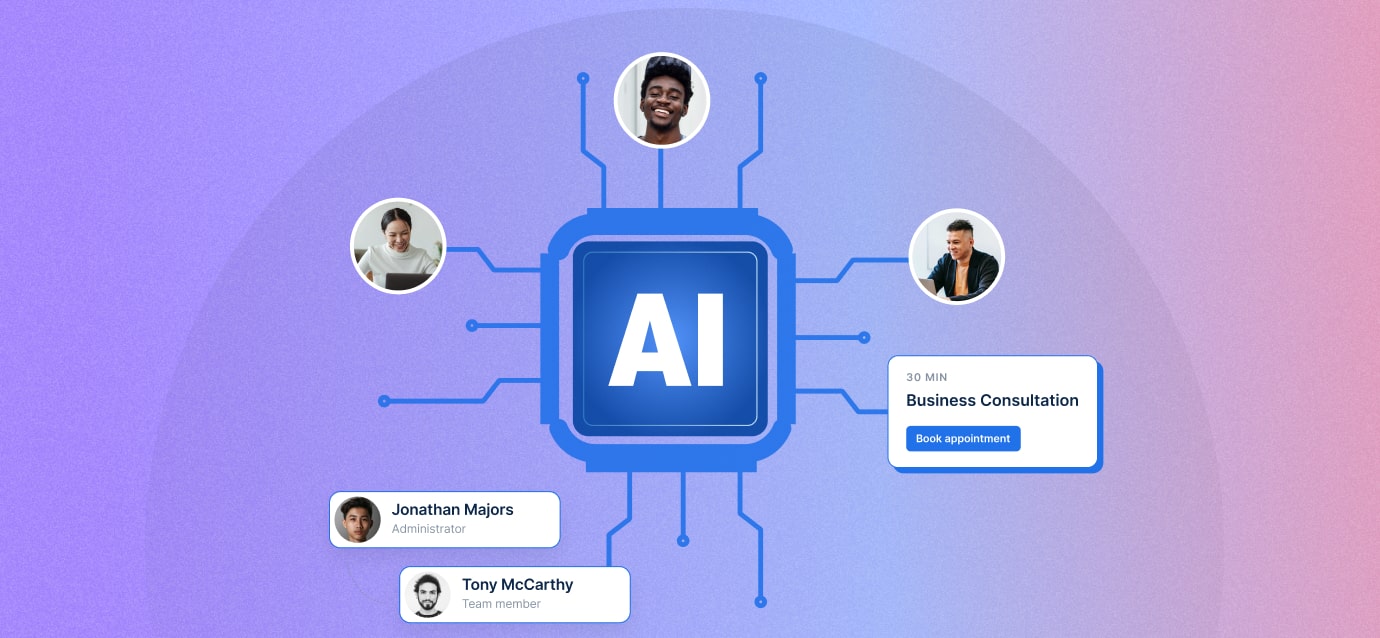 Add and Manage Team Members:
With the Timetics scheduling tool, you can add unlimited team members, and also admin account can manage their individual access on the site.

Add Your Custom Domain:
Want to add your custom meeting domain? Well, the Timetics scheduling tool has it, with the Pro version you can create your own customized domain for your online and offline business.

Secured Payment Gateways:
Timetics scheduling tool has a number of payment gateways (e.g. Stripe, PayPal), so you have to provide a smooth payout experience for your clients.
..Wait! That's not all, there are more in the pipeline. Also, it would be great to hear from you, so please don't forget to check out the public roadmap. We will honored if you submit your ideas and/or feature suggestions here.
What Makes Timetics Meeting Solution Stand Out?
With Timetics meeting solution stands out from any other
AI-Powered Meetings/Booking Management
Worth mentioning that the tool is also AI-powered to enhance the ease of use and improve your user experience. Customers can get the best-fitted service without asking anyone. Our AI will solve this issue by recommending based on the user history.
Drag-n-drop Seating Arrangement
The visual seat management feature lets you organize movie-theater hall ticketing, restaurant booking, conference booking, etc.
Dedicated Niche-Based Solution
You can bend the tool to your direction in your own way as it is almost any niche-friendly/ Niche-based solution that customizes your entire on-site journey with necessary special features.
Explore AI Event Management Solution
Managing events will be no more headache as Timetics will bring fully controlled event management solutions powered by AI.
Timetics Integration with Other Tools
Timetics meeting solution has a number of renowned integrations. For regular meetings are sessions, we have integrated Google Meet alongside Zoom. Research has shown that business owners tend to struggle a lot, in terms of not providing a better payment gateway.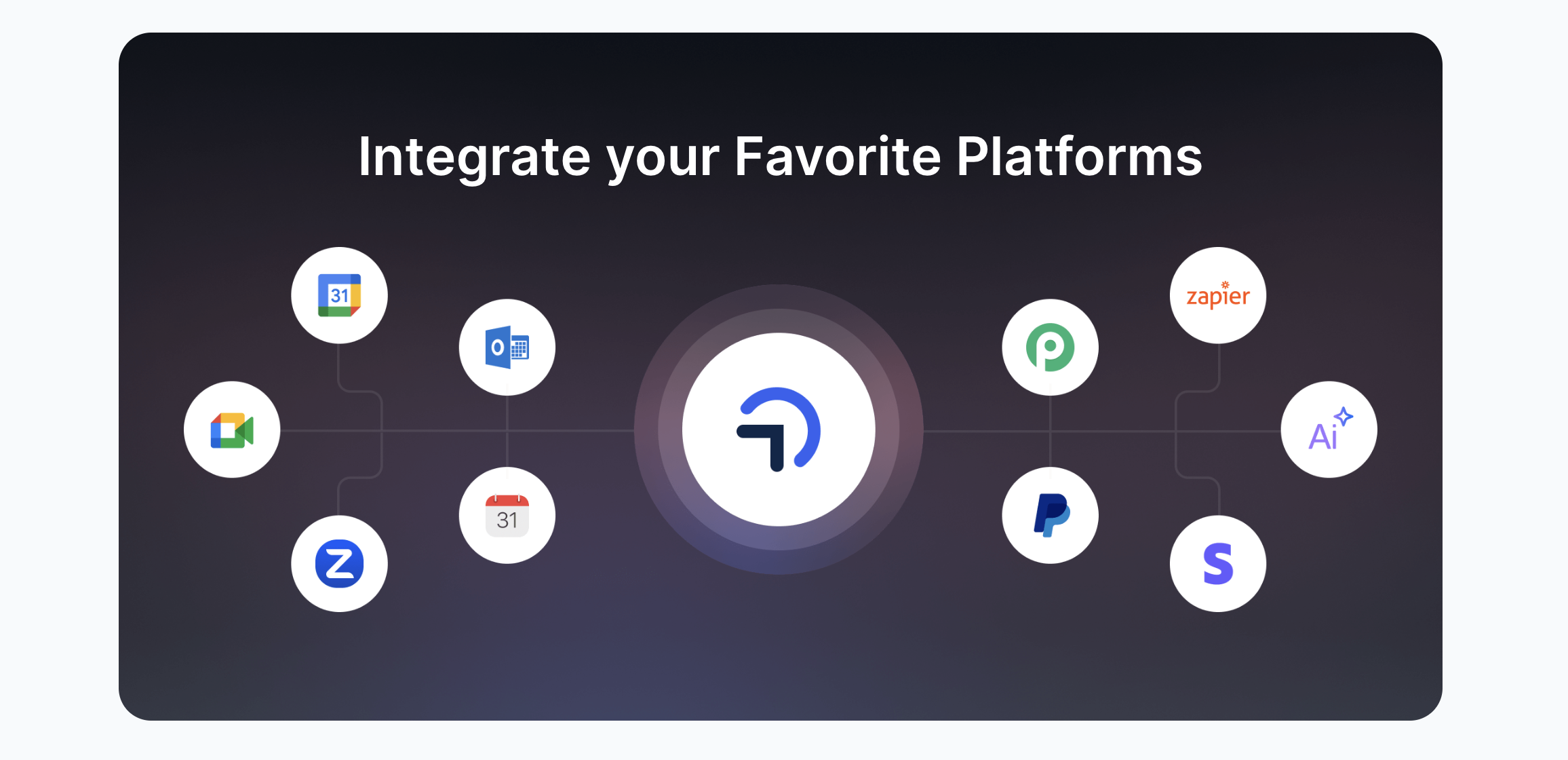 But not anymore, with the Timetics scheduling tool you can provide a smooth, yet super-easy payment closing. How? Because we have integrated two of the most popular PayPal and Stripe.
Which Business is Suited with Timetics
Basically, the Timetics meeting solution is suitable for a number of niche businesses, however, if you want to specify the basic ones then here's a list below: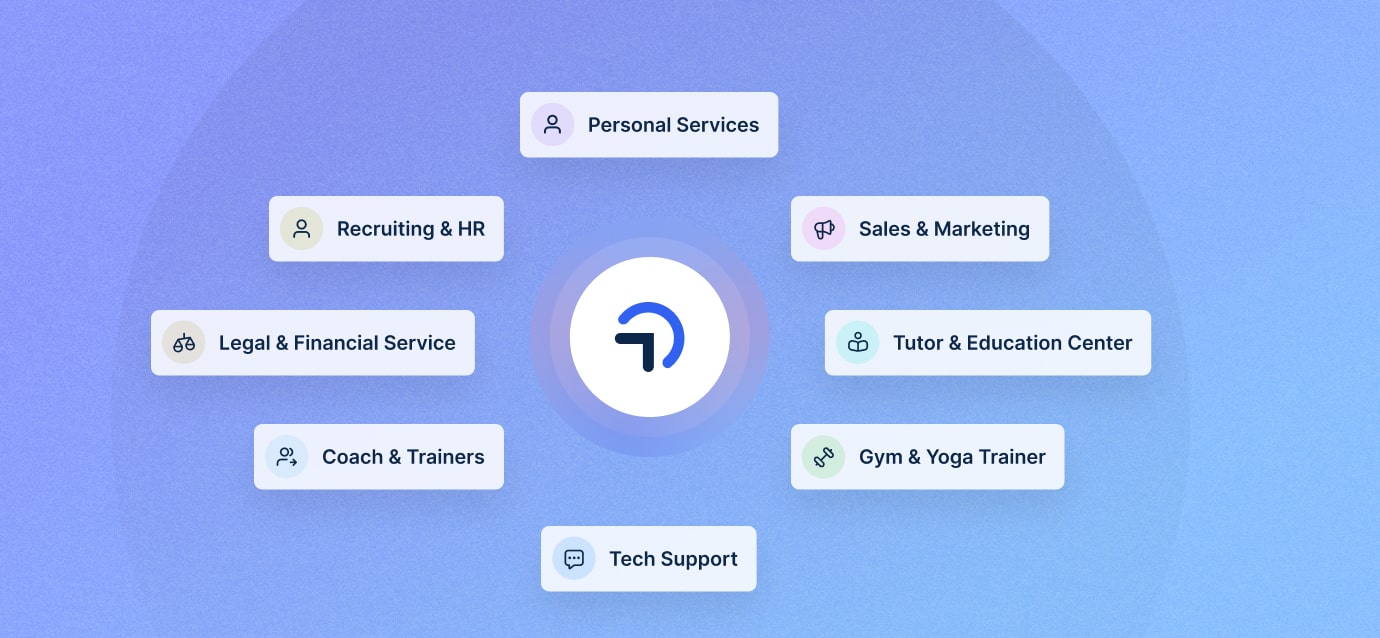 Still Timetics scheduling tool is undoubtedly compatible from industrial businesses to small business. Our pricing is also flexible and customizable regarding your needs.
The Story of Getting Started
We know how busy your schedule is…
And that too when managing all these appointments and meetings, for multiple platforms, feels daunting right? You don't deserve that.
According to a recent study on managing schedules, we also had a quick Q&A session with our colleagues and friends who have complained from time to time about how unorganized scheduling meetings can get.
We get it, as busy individuals, and have all these things going in our heads comes naturally. And dealing with a buggy confusing platform is the last thing we want, right?
So we looked into this problem and thought— What if we could manage all our schedules from one place?
As an average person would do, we did a good old Google search and found out there are already solutions out there that do this, like Calendly, Cal, and a few hundred others. But if they still exist, why are people still complaining? So we delved deeper into these tools and did a few months of research.
Then we put together all these data and found some interesting insights, let's just say there are a lot of problems with the existing tools in the market. Then we got to work and engineered a platform that is not like any other scheduling tool. We built—Timetics!
FAQs
What makes Timetics unique?
Timetics gives you a comprehensive journey from letting your customers book an appointment, and plan seating arrangements for offline sessions, to organizing events and converting your clients smoothly.
How does it compare with Trafft/Calendly/others?
Timetics has a few aces up the sleeve with Visual Seat Planner and Event Management features, so you can make online schedules while planning out your entire event and seat planning with customer Tickets, pricing and so much more.
Does it have a WordPress plugin?
Yes, Timetics started out its journey as a WordPress booking plugin, available on WordPress Plugin Library.
Do I need coding skills to use Timetics?
Timetics is the ultimate plugin for code-free scheduling. Whether you're a beginner or a pro, you can easily manage your appointments, bookings & events with its simple & user-friendly UI interface. No need to code anything, just sign up and enjoy!
Does Timetics provide agency accounts?
Sure thing, we're working on Agency accounts on our roadmap right now, as we're promising our clients who need agency accounts to give your 'clients' a smart time-saving experience.
Can I have a trial before subscribing to Timetics?
Sure you can! You can have a 14-day trial to enjoy Timetics before you decide to upgrade your subscription plan.
Does Timetics have a Lifetime Deal?
Yes! We love our awesome users and we can't wait to have you join our family. That's why we're giving you a once-in-a-lifetime chance to get Timetics for life with our LTD offer. Don't miss this opportunity to enjoy Timetics without paying for it ever again!
How does Timetics use the power of AI?
Timetics is integrated with OpenAI to give your clients a great booking experience by giving them personalized recommendations on your services, based on their previous booking history.
But there's more to come.
With Timetics, we're coming up with two more phases of AI: a) AI-powered location and b) AI Chatbot.
With an AI-powered location, Timetics will recommend your clients the best location they can be nearby to make it to your sessions, meetings, conferences, or any on-site event. By understanding the client's location, Timetics will show them the nearby location of your meetup.
On the contrary, an AI chatbot will put the final nail in the coffin—giving you everything with just a command. By simply typing in what you need, whether you need to create a new meeting, add hosts to X meetings, or set availability on Sunday, this AI Chatbot will definitely make it happen on a whim.
These two features are in production right now. Feel free to share your ideas on our roadmap.
Does it support CNAME?
Answer: Timetics has CNAME in production on our roadmap right now, getting ready for you to have your own customizable domain for your clients to book appointments.
Does Timetics have a 2-way Google Calendar Sync?
Of course! For a smarter scheduling experience, Timetics offers you a 2-way Google calendar synchronization, so that you never miss an appointment.
How can someone use Timetics despite being in a different industry?
If you run a service business in need of appointments, meetings, and sometimes, events: Timetics is perfectly designed for you with AI niche-based experience. All you have to do is answer a few questions during the onboarding process (after you sign up), and voila! Your dashboard will automatically be customized based on your profession, your business, and how you want your dashboard to be.
Can I share data from Timetics to other platforms?
Of course, you can import and export reports from meetings, teams, and events and share them across platforms. To make 'sharing data' a smooth experience, Timetics is integrated with Zapier and Pabbly.